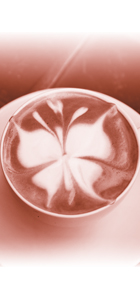 Services
Professional Coffee Consultancy:  

Global evaluation of your coffee business needs
General coffee organization and operation
Personalized assistance to start operating or redesigning your coffee business
Create and launch a complete and personalized coffee line.
Equipment maintenance services: 

Adjusting your espresso machine
Purifying your espresso machine
Cleaning and maintaining your grinder and espresso machine.
Barista training: 

Coffee quality control
Grinding
Dosing
Operating espresso machines
Tamping
Perfect espresso extraction
Milk texturing
Beverage preparation & presentation.
1-day barista services:
Blow up your party or event and impress your guests adding it a touch of class!
We can offer them real Italian specialized beverages, served on the spot by a professional barista. 

Espresso, cappuccino, latte, macchiato, brasiliano, corretto, etc...
Weddings, theme parties, special events.